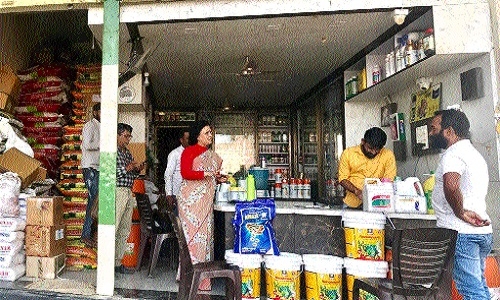 Staff Reporter
Farmer Welfare and Agriculture Development Department has suspended fertiliser selling license of Agrawal Brothers after finding irregularities in sale of fertilisers, on Wednesday.
Team of Farmer Welfare and Agriculture Development Department conducted surprise inspection at fertilisers distribution centres in Shahpura and Patan areas under the direction of Deputy Director, Dr SK Nigam.
Deputy Director, Dr SK Nigam informed that during the inspection of Ms Agrawal Brothers situated at Baldeobagh, team found that the centre owner had fertilisers stock of 191.25 metric ton DAP and the owner was directed for distribution of available stock amongst farmers through installing double lock counters on November 5. Thereafter, owner of Agrawal Brothers had mentioned empty stock and informed about technical fault in POS machine which leads to non-distribution of fertilisers stock. Contrary to the provided information, it was found that the Agrawal Brothers had 146.25 metric ton DAP fertilizer in its stock on November 8.
Following non-distribution of available DAP fertiliser and not providing information of faulty POS machine, Deputy Director, the Department has suspended the fertilisers distribution license of Ms Agrawal Brothers under Section 31(2) of Fertiliser Quality Control.