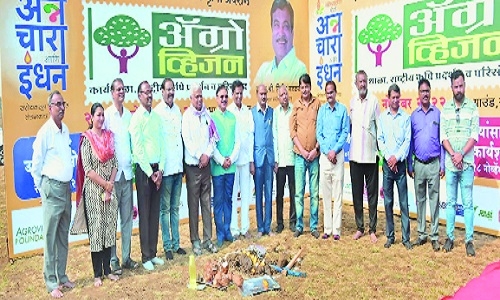 Business Bureau
The bhoomipujan ceremony of the 13th Agrovision National Agricultural Exhibition, was performed on Friday at PDKV Ground, Dabha, Nagpur. The expo will be held between November 25 to 28.
Dr C D Mayee, Chairman Advisory Committee Agrovision, performed the bhoomipoojan rituals.
The Organising Secretary of the exhibition Ravi Bortkar and Ramesh Mankar; Sandeep Jadhav, Sudhir Dive, Dr Pinak Dande, Prashant Vasade, Dr Sunil Sahanpure, Shirish Bhagat, Corporator Dhavad, Corporator Sanjay Bangale, Anandbabu Kadam, Panjabrao Agricultural University's Katkar, Ilorkar, Hitendra Singh and other dignitaries were present.
The exhibition will be spread across the huge area of total of 50,000 sq meters that would include hangar of 10,000 sq meters size, exhibition stalls erected in open ground of 4,000 sq meters and three huge domes for conducting workshops. To participate in the exhibition, interested may contact Agrovision Secretariat, Govind Apartment, Shankar Nagar, Nagpur (Phone: 2555249, 2544929).