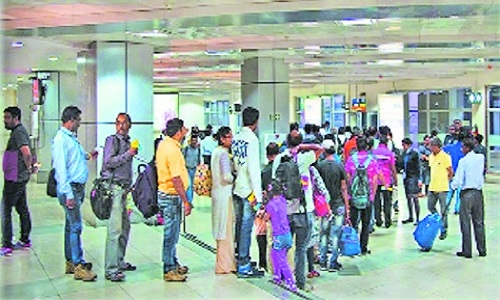 Business Bureau
As the Government lifted all the COVID-19 restrictions and the Indian economy started coming bounce back on the track, various sectors are witnessing increased activities. The aviation industry is no expection which began to boom. People have started visiting their families, friends and also various holiday destinations in large numbers.
This was great news not only for trade and industry but also everyone associated with the aviation industry.
With this the Nagpur airport handled more than 16 lakh air passengers from January to September, 2022.
According to data recently uploaded by the Joint Venture International Airport, Nagpur reported by Airports Authority of India (AAI), the Dr Babasaheb Ambedkar International Airport witnessed footfall of 16,04,497 passengers from January to September this year.
It would be pointless to compare the air passenger traffic with 2020 and 2021 as both these years were marred with various restrictions, lockdowns and flight cancellations due to COVID-19, said sources in the aviation industry on the condition of anonymity.
In the year 2020 aviation industry experienced a sharp downturn as the economy was hit by coronavirus pandemic and Government induced lockdown. With this came travel restrictions on the movement of people and temporary suspension of flights from March 25 to May 25, the aviation industry was badly hit.
The number of air passenger traffic in and out of Dr Babasaheb Ambedkar International Airport Nagpur witnessed a sharp reduction from January to December 2020 which stood at 12,06,890 compared to 31,24,675 in the year 2019, a difference of 19,17,785 passengers, said another source.
A leading travel agent said that the air passenger traffic to reach pre-COVID levels would take another two to three years. This would happen in a gradually manner as the economy recovers and the number of flights increase from
Nagpur airport.