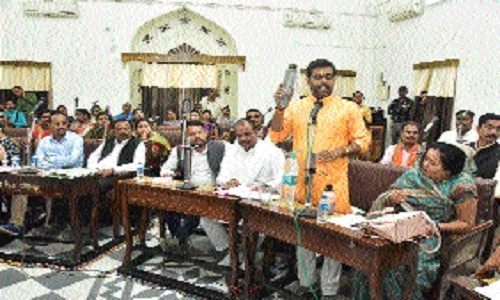 Staff Reporter
The Opposition's claims regarding impure drinking water supply in the city were proved baseless during the general house meeting of the Jabalpur Municipal Corporation which was held at Pt. Bhawani Prasad Tiwari auditorium, on Friday. The Opposition Bharatiya Janata Party (BJP) Corporators took the sample of potable water and got tested it inside the House only. The test results falsify their claims. Irked over Opposition's move, ruling party members said the Opposition was misleading the house and the citizens too.
Mayor, Jagat Bhadur Singh presented a supplementary budget in the House which was passed unanimously. Members of both ruling and opposition party appreciated the budget. During the meeting the Mayor also checked installation of new Unipoles in the city. He also showed generosity for the 10 new wards of the city by allocating additional amount of Rs 10 lakhs each apart from 40 lakhs approved for development works in each wards.
During the meeting, Opposition members raised questions on the quality of water supply in the city and alleged that the water which is supply in Jabalpur is not drinkable. BJP Corporator Damodar Soni also took a water sample and got tested inside the house. Though the test results falsified his claims.
Expressing great displeasure over Opposition's move and brushing aside their claims, Mayor Singh clarified that the pH value of drinking water is set from 6.5 to 8.5. The water which is supplied in the city has the pH value between 6.5 to 7.00 which is better for drinking. He also made it clear that the citizens of Jabalpur are getting better and pure drinking water then Indore. Hence, the allegations of Opposition members are completely baseless. He said Opposition members themselves proved that the potable water of Jabalpur is better than Indore.
Later, the Mayor tabled a supplementary budget in the House development works and expansion of basic facilities in all 79 wards of the city. Members of the sides appreciated the budget.
Addressing the House, the Mayor replied all the queries of opposition members and said the Municipal Corporation is working on brisk pace on all the subjects which were brought in Section 30.
He said recently more than 3,000 LEDs were installed, along with that action has been taken to catch and control stray pigs, monkeys and dogs and tenders have also been issued. Besides, a proposal to increase the number of sanitation workers is also under progress for qualitative improvement in the cleanliness arrangements in the city. He also checked installation of new Unipoles in the city.