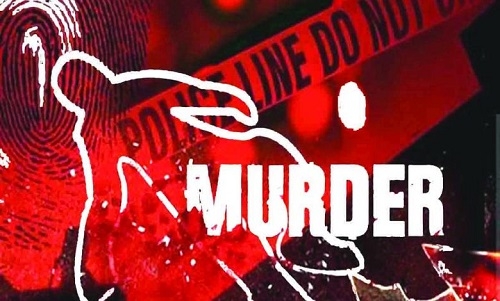 Staff Reporter
Adhartal police succeeded in apprehending the accused of murdering his maternal nephew within some hours of the incident was reported late night on Saturday. The accused has been identified as Ashok alias Batti Kol (30), resident of Indira Nagar in Suhagi and seized an axe used for killing his maternal nephew named Durgesh Kol (22).
SHO of Adhartal police station, Shailesh Mishra informed that on Saturday night, receiving the information of a murder, police team reached the spot at Panni Mohalla where Sanjay Kol informed that owner of Sahil Chicken Centre informed him on phone that his younger brother was killed by unidentified person. Receiving the information, he immediately reached the spot and witnessed that his younger brother Durgesh Kol was laying at Panni Mohalla square and bleeding profusely from his head. Some onlookers informed that Durgesh was killed by his maternal uncle Ashok alias Batti with an axe.
Sanjay Kol added that his maternal uncle Ashok alias Batti has lived-in relation with woman of Yadav caste and has dispute with his family over the issue. Daughter of his lived-in wife regularly visited his house to meet his younger brother Durgesh but uncle Ashok had a doubt on their illicit relation. Annoyed with the meeting of Durgesh his daughter of his lived-in wife, Ashok killed his younger brother Durgesh by wounding his head with an axe. Senior police officers were informed about the incident and FSL team was called on the spot for collecting evidences. The body was sent for post-mortem and Adhartal police registered a case under Section 302 of IPC. Continuing a thorough search, police team nabbed the accused Ashok alias Batti Kol and seized the axe used in killing of boy.