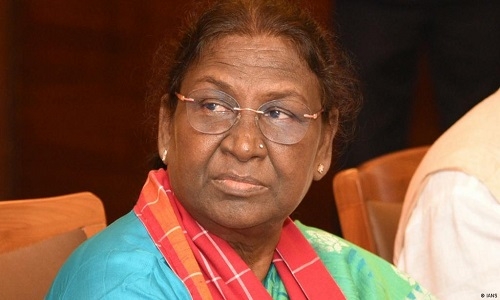 Senior Special
Correspondent
President Draupadi Murmu will visit Madhya Pradesh from November 15 to 16. She will grace Janjatiya Sammelan to be organised by Tribal Welfare Department, Madhya Pradesh Government in Shahdol district and attend some other programmes in Bhopal also. The Government is going to celebrate Janjatiya Gaurav Diwas (Tribal Pride Day) on a grand scale. The programme will also be organised in all the panchayats of the State.
President Draupadi Murmu will attend Shahdol's programme. Chief Minister Shivraj Singh Chouhan gave this information on Sunday. A senior official at CMO informed 'The Hitavada' that she will be back in Bhopal in the night from Shahdol. On November 16 she will address a programme of self-help group.
During her visit to the State, various programmes will be held. Newly built education centres for girls will be virtually
inaugurated. On the occasion, Health Programme, PESA Act, Mitra-24×7 Call Centre and Tribal Design Center-NID Bhopal will be launched. Meritorious students of JEE, NEET and CLAT will be felicitated.
The Chief Minister said that he spoke to President Draupadi Murmu. "I invited her to come to Madhya Pradesh. It is our good luck that she accepted the invitation of Madhya Pradesh. Visit of the President to the State is a matter of pride for us."
On Sunday, a high-level meeting regarding preparations and security arrangements has been conducted at the CM Office. Country's 15th President Draupadi Murmu is the first tribal woman president of the country. In last one and a half year, BJP has organised several mega programmes of Prime Minister Narendra Modi and Amit Shah in Jabalpur, Bhopal notably most of the programmes were in tribal dominated population. Chief Minister Chouhan has announced to implement PESA Act on November 15. Tribal Gram Sabhas will get strength in PESA Act. Experts say that arrival of President Draupadi Murmu to the Shahdol event is a strategy to woo tribal voters.