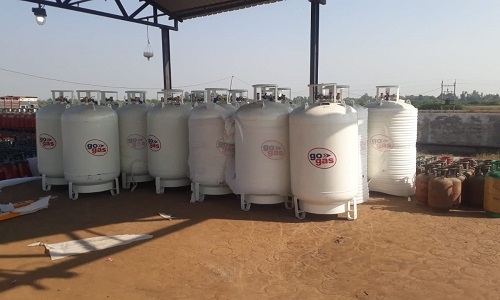 Business Bureau
India's leading private sector LPG brand GoGas has launched 425 kg LPG cylinders in Indian market. With 425 kg LPG cylinders GoGas now will have increased market share in the highly growing energy market in India.
The new 425 kg LPG cylinder now completes the range of cylinders for GoGas. Gogas has 4 kg, 12 kg, 15 kg, 17 kg, 21 kg, 33 kg and 425 kg metal cylinders range. With 425 kg now GoGas will be able to cater to high consumption end-users, buildings which require gas banks, restaurants with high consumption, industries which need 24 hours non stop energy for furnaces etc.
GoGas 425 kg is made at state-of-the-art engineering plants. It complies to all national standards in terms of quality. With over 25 years' experience in LPG cylinder manufacturing Confidence Petroleum India Limited proudly presents this latest addition to the Indian market.
With 425 kg, GoGas and customers will enjoy uninterrupted supply with quality product, lesser downtime, better service, less downtime and savings. GoGas 425 kg will be made available across India, through the channel sales network and through our regional offices.
GoGas is available in 23 Indian States with more than 2,000 dealers catering to commercial, industrial segment end-users. GoGas is a brand of Confidence Petroleum India Limited, which is a BSE/NSE listed company.
Confidence is India's largest LPG cylinder manufacturer with 15 cylinder manufacturing plants also India's leading private sector LPG bottler with 58 bottling plants, runs a chain of 209 auto LPG stations across the nation.
Gogas is offering attractive bulk purchase discounts for new customers. To enquire for more information interested persons may call on mobile number 7666555560.