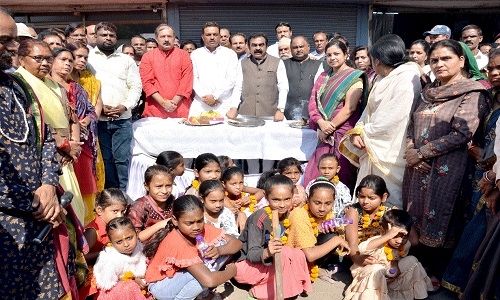 Staff Reporter
Mayor Jagat Bahadur Singh, performed bhoomipujan for 2 roads and 3 gardens in Narsingh ward on Monday. JMC will carry out development works with an estimated cost of Rs 8 crore.
Speaking on the occasion Mayor Singh said it was a matter of great happiness that he was gradually fulfilling all the promises which he made in the election manifesto. Singh said he performed bhoomipujan for development works to the tune of Rs 8 crores in Narsingh ward. He said soon the residents of the ward will get two beautiful roads, which will facilitate movement. Besides, the three new gardens will provide pollution-free environment for the denizens to spend their leisure time. Mayor Singh further said the civic body is vowed to carry out development works equally in all 79 wards for the city. He said by March 2023, development works to the tune of Rs 100 crores will be conducted in the city.
Informing about the new roads, the Mayor said 450 meter long and 12 meter wide M-40 cement concrete road will be constructed from Kachhpura School to Gautamji-ki-Madia. Likewise, 800 meter long and 15 meter wide cc road near Gangasagar pond will be constructed in the ward. Proper drains and footpaths will also be developed along the roads. Likewise, Manav Lok Society Park in Badanpur, Navnivesh Colony park in Garha and P P Colony colony park in Gwarighat will be developed. MP Rakesh Singh and MLA Tarun Bhanot also expressed their views on the occasion.