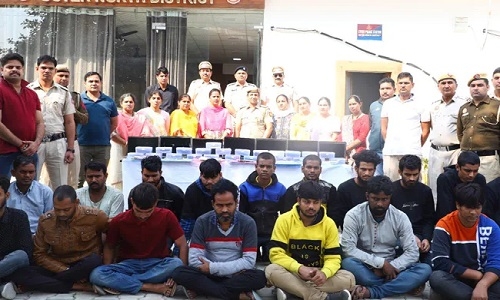 NEW DELHI,
DELHI cyber crime police busted a gang involved in online pan-India Ola electric scooty scam with the arrest of its 20 members from various parts of the country including Karnataka's Bengaluru, Haryana's Gurugram and Bihar's Patna, Deputy Commissioner of Police (Outer North) Devesh Mahla said on Monday.
The DCP said that the gang duped online over 1,000 persons of crores of rupees in the name of selling them electric scooty.
The gang bust during a thorough investigation after registration of a first information report (FIR) on October 8 of cheating in this regard under section 420 of IPC on the basis of a complaint received by the cyber police station on October 7, he added. About their modus operandi, the police said that two persons in Bengaluru designed a fake website of Ola scooter.
The gang used to target those gullible persons who search about Ola scooter and want to know about it on the website, the police added. As soon as they upload their details on the website, both the Bengaluru men share their mobile numbers and other details with their gang members in the other states, they added.
Subsequently, the gang members from Bihar and Telangana call the victims and ask them to online transfer Rs. 499 in the name of booking Ola scooter, they added. The gang members further ask each of the victims to transfer Rs. 60,000 to 70,000 in the name of insurance and transportation charges of the scooty.