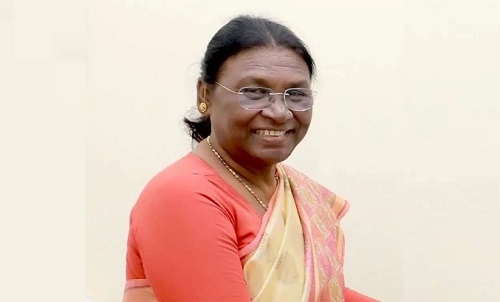 Staff Reporter
President Draupadi Murmu will be on a two-day visit to Madhya Pradesh on November 15-16. She will attend the Tribal Pride Day State-level programme to be held Shahdol on November 15 and will lay the virtual foundation of two projects from Bhopal. President Murmu will attend the Women's Self-Help Group (SHGs) Conference on November 16 at Motilal Nehru Stadium, Bhopal.
As per schedule, President Murmu will arrive at Dumna Airport on a short stay on Tuesday. After becoming the President, she is visiting Madhya Pradesh for the first time. As per the list, she will arrive at the airport by an Indian Air Force plane from Ranchi at 12.25 pm. Thereafter, she will depart for Shahdol at 12.35 pm by a helicopter. After participating in the programme of Janjatiya Samagam organised on the occasion of Janjatiya Gaurav Diwas, birth anniversary of Bhagwan Birsa Munda in Shahdol, she will return to Dumna airport at 4 pm. Murmu will depart for Bhopal at 4.10 pm by an IAF aircraft.
President Murmu will virtually lay the foundation of the Ratapani, Obaidullaganj-Itarsi Four lane Project (NH-46) of the Ministry of Road Transport and Highways and the Maximum Microbial Containment Laboratory (BSL-4) at the Defence Research and Development Institute, Gwalior, of the Ministry of Defence from Raj Bhavan at 6.30 pm. President Murmu will attend the Women's Self-Help Group Conference on November 16 at 11.30 am at Motilal Nehru Stadium. She will leave for Delhi by plane from Bhopal at 12.55 pm.
Tribal Pride Day President Murmu will attend the State-level programme of Tribal Pride Day at Lalpur, Shahdol on Bhagwan Birsa Munda Jayanti. President will officially enforce the PESA act in Madhya Pradesh at this occassion. Governor Mangubhai Patel, Chief Minister Shivraj Singh Chouhan, Union Minister for Tribal Affairs Arjun Munda, Union Minister of State for Steel and Rural Development Faggan Singh Kulaste, Minister for Tribal Affairs and Scheduled Castes Welfare Meena Singh Mandve, Forest Minister Kunwar Vijay Shah, Food and Civil Supplies Minister Bisahulal Singh, Animal Husbandry and Social Justice Minister Prem Singh Patel will be present.
Upgradation of Ratapani Obaidullaganj-Itarsi Highway to four lane: This project is a part of NH-46 (old NH-69) Obaidullaganj to Betul Inter Corridor route in Bharatmala Pariyojana, which provides connectivity from Bhopal to Nagpur. 12.38 km block of this route comes under the Ratapani Wildlife Sanctuary and the Ratapani block is an incomplete part of the Bhopal-Nagpur Corridor. The project includes all the mitigation measures needed to protect wildlife and the environment. The provisions of animal underpass in the wildlife sanctuaries area will facilitate movement of wildlife. The total length of the project is 12.38 km. Its construction will cost Rs 417 crore 51 lakh. The construction work of the project will be completed in a period of 18 months. In order to reduce the impact of widening of this route on the movement/habitat of wild animals, 5 large animal underpasses (100m., 420m., 1226m., 65m. and 65m.) and 2 small animal underpasses (10m. and 10 m.) sub-structures will be made. A minor bridge and 2 vehicle underpasses are also to be constructed in the project. Benefits of 4-lane project: Better connectivity to Bhopal, Hoshangabad, Betul and Nagpur. Convenience to road users from heavy traffic. Better connectivity to Ratapani Wildlife Sanctuary and Satpura Tiger Reserve to boost tourism sector and increase employment opportunities. Reduction in pollution along with saving time and fuel. Improvements in safety of road users and social and economic prosperity of the people of the region.