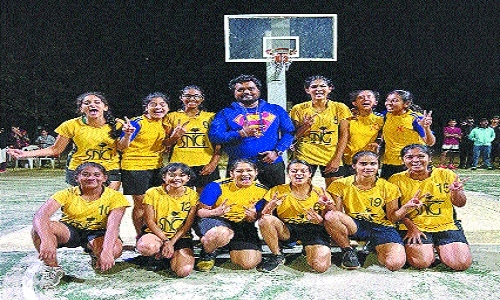 Sports Reporter
IT COULD not have gotten closer or better ... a fitting and thrilling finale that went over the distance! In one of the most exciting of basketball matches the city witnessed in a long, long time, Shivaji Nagar Gymkhana 'A' eves pipped Dharampeth Krida Mandal by a solitary point at the end of over time.
At end of the four quarters and stipulated time, the fiercely-contested battle ended at 59 all. In Over Time, SNG managed a point's lead to win Basketball Youth District Championship at NBYS courts on Monday night.
The full score read 10-9, 10-15, 19-18, 20-17 (Over Time 12-11).
For the winners, Gunjan Mantri (41), Samruddhi Kotriwar (15) and Manjiri (6) were the main contributors while for the runners-up, Sameeksha Chandak (49), Meehira Dhote (14) and Rajvi Maladhari (7) played superbly.