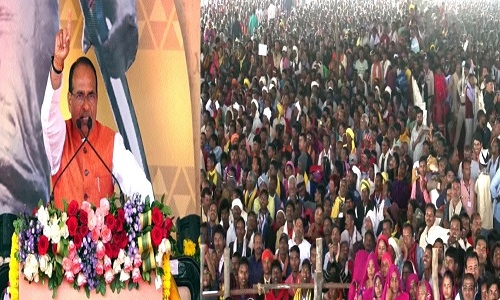 Staff Reporter
"New provisions of Provisions of Panchayats (Extension to the Scheduled Areas) PESA Act will prove a milestone in social and economic empowerment of Scheduled Tribe.
Implementation of these rules will strengthen Gram Sabhas to solve issues of water, land and forest management and monitoring of resolving disputes, health centres, schools Anganwadi centres and other schemes," said Governor of Madhya Pradesh Mangubhai Patel while addressing the mammoth public gathering during Janjatiya Gaurav Diwas programme, on Tuesday.
Governor Patel added that President Draupadi Murmu is an inspiration for people of common families to achieve key positions. Efforts of Prime Minister, Narendra Modi is materialising the vision of Gram Swaraj in the country. He informed about sickle cell eradication campaign in Scheduled Tribe community.
Around Rs 226 crore budget will be spent in second phase of the campaign. He encouraged youngsters to ensure medical examination of Schedule Tribe people by starting door-to-door campaign to contribute for the campaign and the campaign has also been included in Ayushman Bharat Yojana.
Chief Minister, Shivraj Singh Chouhan said that it is a matter of pride for the state that the President, Draupadi Murmi reached the state to attend Bhagwan Birsa Munda Jayanti and PESA Act has been implemented in her august presence. He termed it the day of social revolution and strengthening the tribal society in protection of natural resources through Gram Sabha. He informed that now only licensed persons will be eligible for giving loans in schedule tribe areas under the supervision of Gram Sabha. Gram Sabha will decide the priority of providing benefits of welfare schemes and no liquor shop will be opened without permission of Gram Sabha.