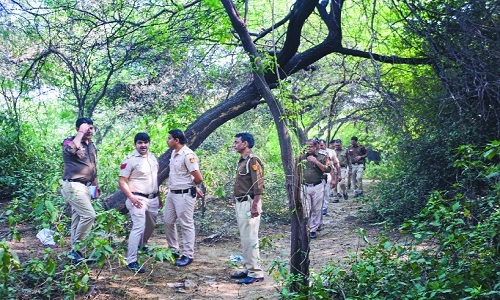 NEW DELHI,
THE Delhi Police on Tuesday took Aaftab Amin Poonawala, the 28-year-old accused of killing his live-in partner, to the forest area of south Delhi's Chhatarpur and spent nearly three hours to locate specific places where he had dumped her body parts. Poonawala strangled his live-in partner Shraddha Walkar in May and sawed her body into 35 pieces which he kept in a 300-litre fridge for almost three weeks at his residence in South Delhi's Mehrauli before dumping them across the city over several days. He will also be taken to some other places in the city besides the Chhatarpur jungle area as part of their probe into the horrific murder.
As Poonawala, with his face covered with a white cloth and surrounded by police personnel, was taken to the woods, camera crews and journalists jostled with each other. The ire over the gruesome killing seemed to spill over with a woman at the spot asking Poonawala if he was ashamed of his actions.
"The crime scene was recreated to understand and ascertain the sequence of events that led to the heinous crime and how he managed to locate the spots where different pieces could be dumped without inviting public glare," a senior police official said. The police is also likely to approach authorities at online dating app Bumble through which both the accused and victim met.
"We want to access his account to analyse his profile and know how many women he was in contact with and screen the chats to understand his psyche. Based on the profile analysis we will also be approaching those people with whom he was in contact with and invited them to the same residence where he had killed the woman," the official further said.
Police officials are also trying to get in touch with the accused's friends and will probe whether he was in relationship with multiple women after killing Walkar or he was cheating on her when they were together.
According to police officials, 13 body parts were found after the accused pinpointed the areas where he had thrown them, but only after their forensic examination, it can be confirmed if they belong to the victim.
After receiving the complaint, the Mumbai Police traced her last location to Delhi and also called Poonawala whose contradictory statements raised suspicion, prompting them to rope in Delhi Police. Poonawala has been remanded in five-day police custody.