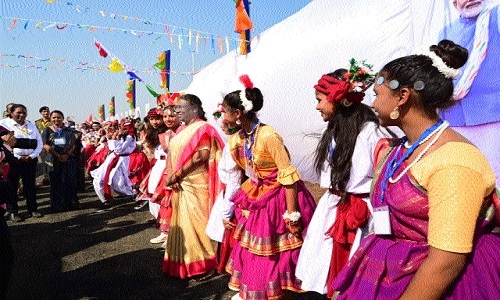 Our Correspondent
Shahdol,
President Draupadi Murmu was addressing Janjatiya Samagam held on the occasion of Janjatiya Gaurav Diwas to mark 'Jayanti' of Bhagwan Birsa Munda at Lalpur, Shahdol and released complete health programme plan booklet of Madhya Pradesh. On the occasion, Governor Mangubhai Patel handed over the first copy of the PESA Act Manual to the President President Draupadi Murmu. At the onset, President Draupadi Murmu first offered floral tributes to the portrait of Bhagwan Birsa Munda. Governor Mangubhai Patel welcomed President Smt. Murmu with garland and a tribal scarf. Chief Minister Shivraj Singh Chouhan welcomed President President Droupadi Murmu with a tribal turban and presented Bhil Pithora painting artwork to her.
Governor Mangubhai Patel said that the new rules of the PESA Act implemented in Madhya Pradesh from today will prove important in the social and economic empowerment of the tribal class. With the implementation of these rules, the gram sabhas will become very powerful. According to the new rules of the PESA Act, the management of water, land and forests, settlement of minor disputes, inspection of health centers, schools, Anganwadi centers, monitoring of various schemes, etc. will be in the hands of the Gram Sabha. Chief Minister Shivraj Singh Chouhan said that today it is a matter of fortune for the state that President Smt. Draupadi Murmu has come to Madhya Pradesh on the birth anniversary of Lord Birsa Munda. In his presence, the PESA Act is being implemented for the empowerment of tribals in the state. Its rules will give the tribal class the rights of water, forest and land. The new rules will be implemented in the state with social harmony. Today is the day of social revolution.
Chief Minister Chouhan said that according to the new rules of the PESA Act, every year the Patwari will have to bring the land map, Khasra Nakal to the village and show it in the Gram Sabha, so that no one can make any mistake in the records. In case of any discrepancy, the Gram Sabha will have the right to correct it. The consent of the Gram Sabha will be necessary for taking land for any scheme. No person will be able to grab the land of the villagers by deceit, conversion etc. If this happens, the Gram Sabha will have the right to get it back.
President Draupadi Murmu visited the photo-exhibition of tribal heroes at the venue. Also saw the products prepared by women self-help groups at various stalls. Tribal Affairs Minister of Madhya Pradesh Meena Singh Mandve gave the welcome speech. Saila Reena dance was presented by Gond tribal artists to welcome President Draupadi Murmu.