Delhi Bureau & Agencies
NEW DELHI,
PRIME Minister Narendra Modi on Tuesday paid tributes to Birsa Munda, an iconic tribal leader, on his birth anniversary and said the tribal community has been the inspiration behind various schemes of his Government.
President Draupadi Murmu arrived in Ranchi on Tuesday morning and directly went to Ulihatu, the birthplace of Birsa Munda where she paid floral tributes at a bust of the tribal icon on his birth anniversary. Birsa Munda's birth anniversary is celebrated as 'Janjatiya Gaurav Divas'.
Vice President Jagdeep Dhankhar and Lok Sabha Speaker Om Birla also paid floral tributes Birsa Munda in Parliament House Complex on Tuesday. In a recorded video address, Modi cited a number of welfare programmes of the Central Government and said crores of tribal families have benefitted from them and their lives have become easier. He noted that museums dedicated to tribal freedom fighters are being built across the country to recognise their contributions. His Government, Modi noted, had announced Munda's birth anniversary as 'Janjatiya Gaurav Divas'.
India has to give shape to its future by learning from the grand tribal legacy and the Janjatiya Gaurav Diwas will become an opportunity and medium for this, he said. Murmu arrived at the Birsa Munda Airport at about 9 am and was welcomed by Jharkhand Governor Ramesh Bais, Chief Minister Hemant Soren and Union Ministers Arjun Munda and Annapurna Devi.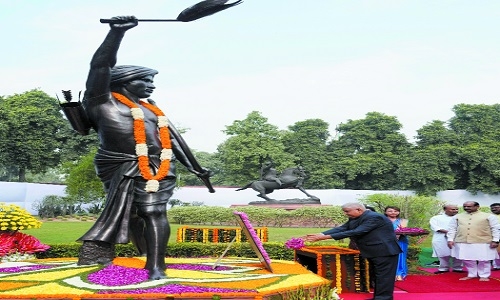 From there, she flew in an Indian Air Force chopper to Ulihatu, Birsa Munda's village, about 70 km from the State capital. This was Murmu's first visit to Jharkhand, where she was earlier the Governor, after assuming the office of the country's first citizen. Murmu paid floral tributes at a bust marking the birthplace of the legendary tribal freedom fighter. She also spoke to Birsa Munda's descendants before visiting the nearby complex named after him and paid her respects at the full-size statue of the tribal icon there. She greeted the people of Jharkhand on the State's foundation day. Speaking on this occasion, Vice President Dhankhar said, Bhagwan Birsa Munda played an important role in bringing awareness against British rule. Lok Sabha Speaker Birla said the ideas of Bhagwan Birsa Munda will always be a source of inspiration for the nation. This glorious day encourages us to work purposefully for the welfare of tribal society.