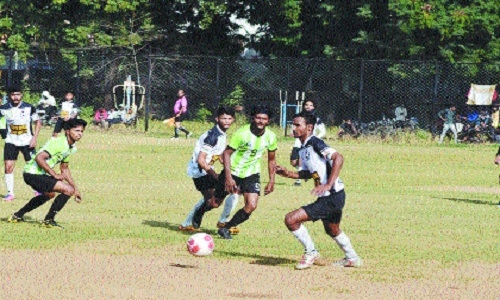 Sports Reporter
DEFENDING champions Ansar Sporting Club were stunned in their opening match of the JSW-NDFA Elite Division League Tournament at Bharat Ratna Dr BR Ambedkar Football Stadium in Suyog Nagar on Tuesday.
Six-time champions Young Muslim Football Club (YMFC), who were the runners-up last season, pipped Ansar Sporting by a solitary goal to start their campaign with three valuable points. The all important goal came as early as the third minute of play off a spot kick.
Making early inroads, YMFC moved towards Ansar goalline and Mohd Azim took the first strike on the post. Ansar goalkeeper Mohd Shoeb failed to collect the ball neatly and it bounced back on the ground. In an attempt to get hold of the ball, the keeper made a dangerous tackle in front of the post forcing referee Christopher Peter to award a penalty kick to YMFC. Muzammil Khan made no mistake in slotting the ball home to give his side a much-needed lead.
YMFC would have won by a much bigger margin had they not wasted half a dozen chances while Ansar too had their opportunities to level the score and take lead but fumbled at crucial junctures.
Nayan Kanojiya and Mohd Uzaif of YMFC and Mohammad Shoeb and Mohammad Hasan of Ansar were cautioned.
Wednesday's fixture: Rahul Sankryutyayan SA vs Nagpur Academy at 2.30 pm.