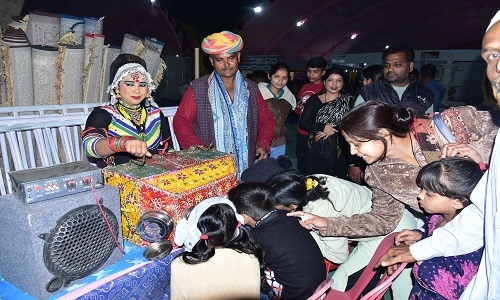 By Anushree Bhoware (Bioscope ki Baatein)
Bioscope or '12 Gaon Ki Doban', the traditional form of entertainment, is back with a modern touch. Bioscope is a traditional form of media, which has entertained people since 19th century. Earlier, people were crazy about it and used to wait every week for this 5-minute entertainment.
However, with time, bioscope lost its popularity after entry of television and other electronic devices in the entertainment field.
Meanwhile, Bhatt family based at Barmer Rajasthan once again started their traditional family business of bioscope with a modern touch to revive its lost popularity among people. With the sole motive of taking back 'Bioscope Era', this family visits fairs and specific events and make efforts to grab public attention towards bioscope. This family is in this business since past 10 generations. Though during transition period, the family had to stop their business for 30 years, as they could not cope with the modernisation. This family revived bioscope five years ago and after travelling more than 10 countries and hundreds of cities, Bhatts are now in our city with their bioscope.
Sunita Nat and Jagdeesh Bhatt, owner of bioscope stall installed at Gurleen Trade Fair while talking to 'The Hitadava' told that "We are in Jabalpur for the first time and having very good experience here. More than 20 people everyday including grandparents and parents approach us with their children to show them bioscope joyously."
They added "Earlier they used traditional horn 'Bhopu' and candles to show bioscope. With changing time, they have added bulbs and blue-tooth music to attract young generations. We only want to make youth familiar with our rich culture and heritage. People especially young generations are taking more interest to see this traditional form of entertainment. We are delighted that people are still aware of their traditions and culture and forward it to this young generation."