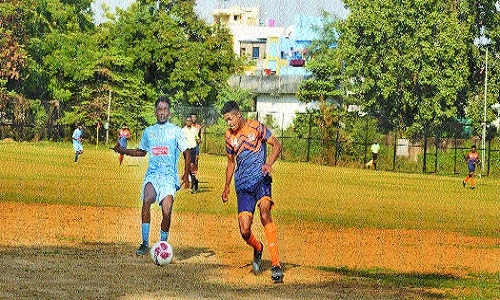 Sports Reporter
SAGAR Chintala scored from a long range free kick to help Rahul Sankrutyayan Sports Association record win in their opening match of the JSW Elite Division Football Tournament being played at Bharat Ratna Dr BR Ambedkar Football Stadium in North Nagpur.
The first half goal from Chintala helped Rahul beat Nagpur Academy Football Club by a solitary goal on Wednesday.
Rahul SSA got the opportunity through Badal Soren, who was fast while moving towards Academy goalline.
A rough tackle just over 40 yards line forced referee to award a free kick to Rahul SSA in the 40th minute.
Chintala shot his powerful right footer into the net to perfection to give his side the slender lead.
It was the only goal of the match as the second half was well defended by Rahul SSA.
Bhuvan Jerpot and Pushpak Sangode of Rahul SSA were cautioned while Anas Ansari of Nagpur Academy was shown direct red card for dangerous play. Thursday's fixture: SECR HQ vs Nagpur Blues at 2 pm.