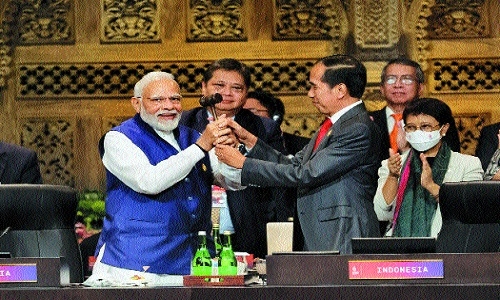 By Ashwani Talwar
BALI,
INDONESIA on Wednesday handed over the G-20 presidency to India for the coming year at the Bali Summit here with Prime Minister Narendra Modi terming it a matter of pride for each and every Indian citizen.
At a brief ceremony, Indonesian President Joko Widodo handed over the G-20 presidency to Prime Minister Modi at the conclusion of the two-day G-20 Summit here. "Together with every countries' efforts, we can make the G-20 Summit a catalyst for global welfare," Modi said.
The handing over ceremony came as the member states finalised the joint declaration. Earlier, Foreign Secretary Vinay Kwatra said that India has contributed 'constructively' to drafting of G-20 'outcome document'.
Delegations from the member states had differences on how to characterise the Russia-Ukraine war, with Ukraine's western allies said to be seeking outright condemnation of Moscow.
There were fears earlier that the member states may not agree to a final document. G-20 declarations require consensus of all members. Prime Minister Modi has promised a presidency that will be "inclusive" and a voice of the developing countries. The next summit will be held in New Delhi on September 9-10.
In a session on digital transformation, the Prime Minister said that the principle of "data for development" will be an integral part of the overall theme of India's upcoming G-20 presidency. Later in the day, Prime Minister Narendra Modi left for India from Bali after spending two "productive days" at the G-20 Summit.
Before his departure, Prime Minister Modi in a tweet thanked the people of Indonesia, the Indonesian Government and President Joko Widodo for their warm hospitality. "Spent two productive days at the @G-20org Summit in Bali. Had fruitful deliberations with various world leaders and also highlighted India's position on key subjects," he said.