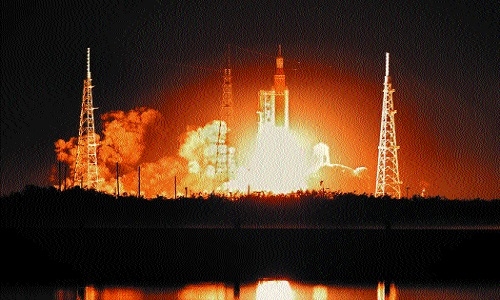 By Marcia Dunn
CAPE CANAVERAL,
NASA's new Moon rocket Artemis blasted-off on its debut flight with three test dummies aboard early on Wednesday, bringing the US a big step closer to putting astronauts back on the lunar surface for the first time since the end of the Apollo programme 50 years ago. If all goes well during the three-week, make-or-break shakedown flight, the rocket will propel an empty crew capsule into a wide orbit around the Moon, and then the capsule will return to Earth with a splashdown in the Pacific in December.
After years of delays and billions in cost overruns, the Space Launch System rocket thundered skyward, rising from Kennedy Space Centre on 4 million kilograms of thrust and hitting 160 kph within seconds.
The Orion capsule was perched on top, ready to bust out of Earth orbit toward the Moon not quite two hours into the flight. The moonshot follows nearly three months of vexing fuel leaks that kept the rocket bouncing between its hangar and the pad. Forced back indoors by Hurricane Ian at the end of September, the rocket stood its ground outside as Nicole swept through last week with gusts of more than 130 kph. Although the wind peeled away a 3-metre strip of caulking high up near the capsule, managers gave the green light for the launch.
NASA expected 15,000 to jam the launch site, with thousands more lining the beaches and roads outside the gates, to witness NASA's long-awaited sequel to Project Apollo, when 12 astronauts walked on the Moon from 1969 and 1972. Crowds also gathered outside NASA centres in Houston and Huntsville, Alabama, to watch the spectacle on giant screens. Cheers accompanied the rocket as it rode a huge trail of flame toward space, with a half-Moon glowing brightly and buildings shaking as though hit by a major quake.
"For the Artemis generation, this is for you," launch director Charlie Blackwell-Thompson called out, referring to all those born after Apollo. The lift-off marked the start of NASA's Artemis lunar-exploration programme, named after Apollo's mythological twin sister.
The space agency is aiming to send four astronauts around the Moon on the next flight, in 2024, and land humans there as early as 2025. "You have earned your place in history," Blackwell-Thompson told her team following lift-off.
"You're part of a first. Doesn't come along very often. Once in a career maybe. But we are all part of something incredibly special: the first launch of Artemis. The first step in returning our country to the Moon and on to Mars."