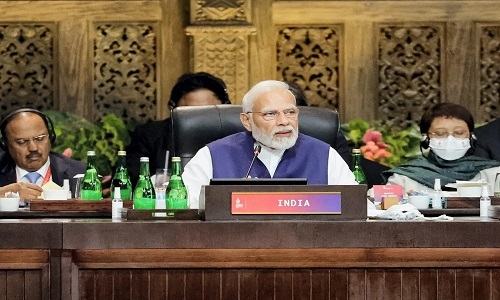 BALI,
LEADERS at the G-20 Summit on Wednesday called for an immediate end to the Ukraine conflict, holding that "today's era must not be of war", a formulation that echoed Prime Minister Narendra Modi's message to Russian President Vladimir Putin in September. A communique was issued at the end of the two-day summit that extensively deliberated on the Russian invasion of Ukraine and its implications for the world.
It said, the members of the grouping have called for peace, cessation of hostilities and an end to the war in Ukraine, underlining that the continuation of the ongoing situation will have adverse impacts on food and energy security.
"The peaceful resolution of conflicts, efforts to address crises, as well as diplomacy and dialogue, are vital. Today's era must not be of war," the communique said. In his bilateral meeting with Putin in Uzbekistan on September 16, Modi had said that "today's era is not of war" and nudged him to end the conflict.
The declaration said, many G-20 members strongly condemned Russia's war against Ukraine and expressed the view that Moscow's "illegal, unjustified and unprovoked war of aggression against Ukraine is impairing the global economic recovery."
India emerged as a leader, solution provider and consensus builder through its positive and constructive approach. India played a key and critical role in bringing consensus amongst all countries on the communique, Foreign Secretary Kwatra said. He said that the Indian delegation guided by the Prime Minister played a "key role" in the successful resolution of differences over the "outcome document."
He said the "particular global context" was reflected in the consensus documents. He said Modi's observation that this is not an era of war and his advocacy of diplomacy and dialogue helped in reaching a "successful" outcome.
His message helped in consensus building, Kwatra said.
India worked in partnership with all developing countries and emerging markets to draft the final statement and the preamble to the statement. "It is essential to uphold international law and the multilateral system that safeguards peace and stability. This includes defending all the purposes and principles enshrined in the Charter of the United Nations and adhering to international humanitarian law," the G-20 communique said.