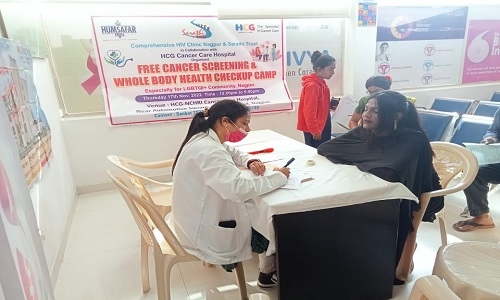 Business Bureau
In continuation of their endeavour to ensure world-class cancer care services and commitment towards cancer free society, HCG NCHRI Cancer Centre Nagpur has started a unique campaign for transgender and LGBT community by organising a one-day free screening camp on November 17, 2022 in hospital campus, where more than 75 persons from transgender community have availed cancer screening services free of cost.
This was disclosed by Venkateshwarlu Marapaka, COO of the hospital while speaking at a press conference on Thursday. He said that the cancer screening package includes, mammography, USG abdomen, PAP SMEAR (when and where required), necessary blood investigations and consultations by HCG's expert team like, cancer physician, physiotherapist, Yoga therapist and psycho-oncologist. The programme was organised by HCG Cancer centre Nagpur in association with Sarathi Trust.
He further said that the benefits of the screening programme can be availed by the general public for Rs 88. The screening will continue till April 30, 2023. "Wholebody checkup is must for everyone above 40 years of age to detect cancer or any other disease," he added.
Dr Sushant Ikhar, Consultant Medical Oncologist, Nikunj Joshi, CEO of Sarathi Trust, Dr Kamaljeet Kaur, Achal Verma, Sarathi Trust and other dignitaries were present.