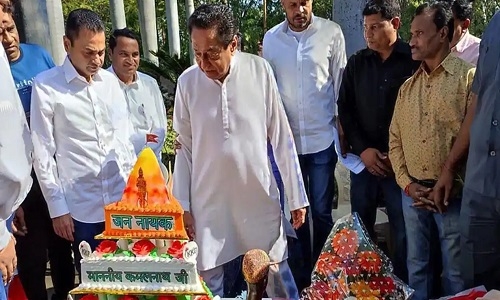 Senior Special
Correspondent
A controversy erupted after a video went viral about 'temple shaped' cake cutting birthday celebration of former Chief Minister Kamal Nath in the State. Pradesh Congress Committee Chief, known as Hanuman Bhakt has now been trolled by the opposition. Dr Narottam Mishra compared Kamal Nath to Mohd Ghori and Ghaznavi.
Kamal Nath's birthday is on November 18. But he was on a visit to his hometown Chhindwara. So his supporters celebrated his birthday in advance. In the video that went viral, Kamal Nath is seen cutting a temple-shaped cake which is a replica of 101 ft tall idol of Hanuman temple built by Kamal Nath near his constituency.
As the video went viral, BJP alleges that the temple shaped cake with a picture of Hanuman is an insult of Hindu Dharma. Chief Minister Shivraj Singh Chouhan called the act an insult to the Sanatan tradition. 'Kamal Nath in fact is a Bagula Bhakt (deceitful devotee).'
Over the issue verbal attacks and counter attacks took the centre stage in State politics. Congress has now issued a statement clarifying the cake controversy of former Chief Minister Kamal Nath. In this statement, he has claimed that the cake that was cut was different, and the replica of the temple was made of thermocol. Congress media President K K Mishra has said that the replica of the temple was completely different and the cake is placed behind it. "haratiya Janata Party has been worried by the success of Rahul Gandhi's Bharat Jodo Yatra. Even before the yatra in Madhya Pradesh, the entire BJP and the Shivraj Singh Chouhan Government is issuing false statements to divert attention from the yatra. BJP has gone to an extent that it is trying to bring even the birthday celebrations of Kamal Nath into controversy.
The Chief Minister, breaking all decorum, has even given a statement that the temple has been brought down. For political interest. It is a matter of great shame to tell such a reprehensible lie about God. It should be known to all that the cake was cut there and the replica of the temple was made of thermocol, it was kept separately. That's why the Chief Minister's statement of cutting the temple is not only Hindu religion Rather an attempt to spread lies." Similarly, in another statement, the Chief Minister has taken the side of hoarders who hoard fertilisers and harass farmers. This tells that the Chief Minister, who calls himself the son of a farmer, is a farmer. Seems not true.