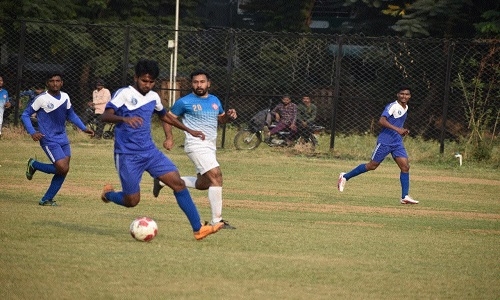 Sports Reporter
SOUTH East Central Railways headquarters, Bilaspur team is back on track after a stuttering start to the JSW Elite Division Football Tournament. In the second match, the railmen thrashed Nagpur Blues 3-0 to earn first points on Thursday at Bharat Ratna Dr BR Ambedkar Football Stadium in Suyog Nagar.
But they had to wait for almost an hour to find the back of the net.
After managing to hold SECR for entire 45 minutes, Nagpur Blues defence crumbled at the hour mark as P Tushal's powerful right footer from top of the circle bulged into the net.
With gap increasing in the Blues defence, the railmen pressed hard and seized the opportunity six minutes later. A calculated cross pass from Aquib Faraz in the 66th minute was well collected by Nirmal Munder who made no mistake in sending it across the goal line. Faraz then sealed the important win with the third goal in the 84th minute, this time Nirmal crossing the ball inside the box. Faraz coolly headed the ball into the net to make it 3-0.
For Blues, this was their first defeat from two games, the first one against Big Ben ending in a goalless draw.
On Friday: MOIL XI vs Rabbani Club at 2 pm.