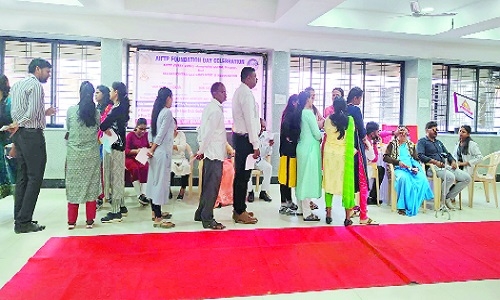 Business Bureau
On the eve of 46th Foundation Day Celebrations of All India Federation Of Tax Practitioners (AIFTP), an organisation of more than 11,000 tax professionals, a blood donation camp and session on 'Search and Seizure under GST Law' was organised. The camp was organised in collaboration with GSK Blood.
Eye check up in collaboration with Madhav Netralaya in support of State GST Department was also held.
On the occasion, Ananta Rakh, Additional Commissioner, State GST, hailed the role of the federation for doing social work. Gandhi also appreciated the support of Shivam Saraf Memorial Foundation Guwahati for supporting the session.
AIFTP West Zone Chairman Mitish Modi from Surat; Joint Secretary Chirag Parekh and delegates from all over India graced the occasion. National Vice President Santosh Gupta, with the help of Nitin Gautam, Lalit Chauhan, Deepak Pandey, Mukund Dhunisingani, Farhad Jiwani, Mahendra Jain, Narendra Jha, Vivek Jain, Vilas Khadse and others worked hard for the event.