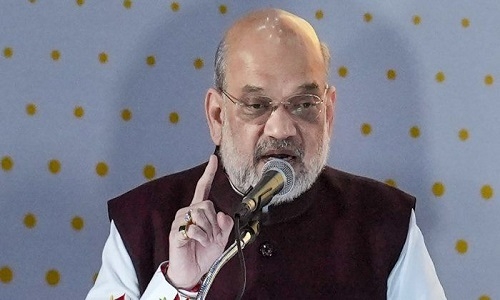 Delhi Bureau & Agencies
NEW DELHI,
INDIA recognises that the threat of terrorism "cannot and should not" be linked to any religion, nationality or group, Union Home Minister Amit Shah said on Friday.
Addressing a session at the third 'No Money for Terror Ministerial Conference on Counter-Terrorism Financing,' he said terrorism is, undoubtedly, the most serious threat to global peace and security but financing of terror is "more dangerous." Terrorists are constantly finding new ways to carry out violence, radicalise youth and raise financial resources. The darknet is being used by terrorists to spread radical content and conceal their identities, he said.
"Additionally, there is an increase in the use of virtual assets like cryptocurrency. We need to understand the patterns of these darknet activities and find their solutions," Shah said. The Home Minister said the transformation of terrorism from 'Dynamite to Metaverse' and 'AK-47 to Virtual Assets' is a matter of concern for the countries and everyone has to work together to formulate a common strategy against it.
"I believe that financing of terrorism is more dangerous than terrorism itself because the 'means and methods' of terrorism are nurtured from such funding. Financing of terrorism weakens the economy of countries," Shah told delegates at the conference hosted by the Ministry of Home Affairs here.
"We also recognise that the threat of terrorism cannot and should not be linked to any religion, nationality, or group," the Home Minister said, adding India has fortified the security architecture as well as the legal and financial systems to fight the menace. "It is the result of our continuous efforts that terrorist incidents in India have come down drastically. This has also resulted in a drastic reduction in the economic losses caused by terrorism," he said.
In a veiled attack on Pakistan and China, the Home Minister said there are countries that "seek to undermine, or even hinder, our collective resolve to fight terrorism."