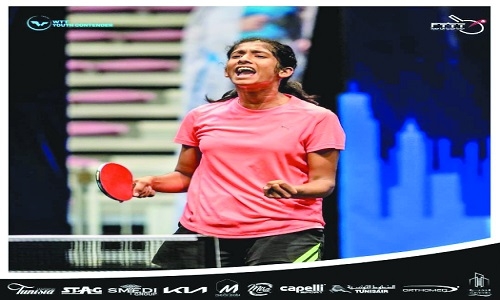 By Paritosh Pramanik
EVEN THOUGH she did not play much of the international tournaments in the last couple of months, city paddler Jennifer Varghese still qualified for the World Youth Table Tennis Championship which is going to be held at Tunisia from December 4-11.
Though Nagpur's teenage table tennis player Jennifer slipped to 11th position from sixth in the world rankings, she managed to make it to the Indian squad on the basis of her world rankings.
"Top 12 in the world qualified for the world championships and I managed to sneak in," Jennifer told 'The Hitavada'.
As per the world ranking quotas, Jennifer was among the 12 players who qualified in the Under-15 girls category.
She is the only Indian in the list of 20 players which has eight reserves. Before embarking on Tunisian sojourn, Jennifer will be warming up for the international meet with the State Championship at Pune.
"Right now I am concentrating on the State meet. Once done with this tournament, I will think about the Worlds," she said. Tunisia is a happy hunting ground for the 14-year-old city lass. Jennifer, who plays only singles events, has won the WTT Youth Contender Under-15 title and was runners-up in the Under-17 age category in the same country earlier this year (March, 2022).
The fast rising paddler is also owner of the South Asian Cadet and Junior Table Tennis Championship Under-15 singles, doubles and team titles. The championship was held in the Maldives in May. Continuing her rich form, Jennifer clinched another Under-15 WTT Youth Contender title in Havirov (Czech Rep) followed by Morocco WTT Youth Contender Under-17 crown in August. That was the last international event in which Jennifer participated where she was runners-up in the U-15 age category too.