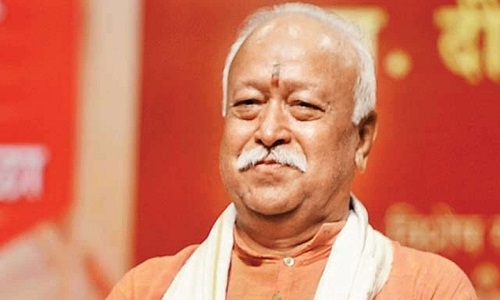 Staff Reporter
Rashtriya Swayamsevak Sangh's Sarsanghchalak Dr Mohan Bhagwat, on Friday took a meetings of Prant and Vibhag Pracharaks at Keshav Kuti. He sought detailed information about works being done by them in the region.
Besides, Dr Bhagwat also apprised Pracharaks about various creative works being done by Swayamsevaks across the country. He will address Prabuddhajan Sangoshti (seminar) at Manas Bhawan, on Saturday.
It may be noted that RSS Sarsanghchalak Dr Mohan Bhagwat is on a three-day visit to the city.
He arrived in Jabalpur, on Thursday and will remain here till November 20. During the visit, Dr Bhagwat will chair meetings of Sangh workers from entire Mahakoshal region and will meet families of the workers.
During the three-day visit, he will discuss with workers the subjects like Shakha Karya, service work, environmental protection, social harmony, women empowerment, agriculture and labor welfare.
He will also seek information about the works being done by the Swayamsevaks from the point of view of the organisation, social work and new experiments. Dr Bhagwat also visited the residence of Dr Pawan Sthapak. The organisation plans to celebrate the centenary in a grand way, the Sangh's Mahakaushal Prant Sahaprachar Pramukh Prashant Bajpai said. As per an estimate, the RSS has around 3,000 pracharaks (full-time workers) in different wings of the organisation's offshoots in sectors like defence, education, labour unions and in tribal areas.
Dr Bhagwat is in Madhya Pradesh after paying a four-day visit to adjoining Chhattisgarh.