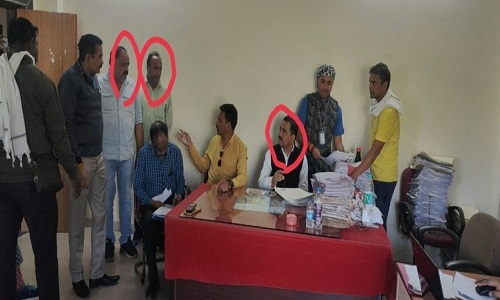 Staff Reporter
Lokayukta team on Friday caught red-handed as many as three people, including two agents and a clerk, posted in RTO Katni while they were taking a bribe of Rs 96,000. The clerk and agents demanded the bribe in lieu of providing new registration of tractor and other vehicles.
The accused arrested by the Lokayukta include Jitendra Singh Baghel (post UDC), co-accused Sukhendra Tiwari (agent) and Ravendra Singh (agent). They have demanded the bribe from applicant Shailendra Dwivedi in lieu of passing the files for new registration of car and other vehicles. Aggrieved of the demand, Dwivedi lodged a complaint with the Lokayukta. Considering the matter seriously, the Lokayukta team made a plan and acted accordingly. It reached the Additional Regional Transport Office, District Katni on Friday morning and caught red-handed Jitendra Singh Baghel, Sukhendra Tiwari and Ravendra Singh when they were taking the bribe amount of Rs 96000 from Shailendra Dwivedi.
The Lokayukta has registered a case against all the accused under relevant sections and taking necessary action accordingly. The Lokayukta team conducted the raid include DSP Dilip Jharbade, Inspector Swapnil Das, Inspector Manju Kiran, Inspector Bhupendra Kumar Dewan and other members.