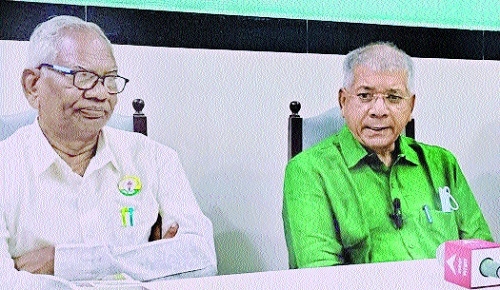 Chandrapur Bureau
Adv Prakash Ambedkar categorically termed Bharat Jodo Yatra as 'Blind March' as the country is already united and not divided, said Adv Ambedkar during a press conference at Chandrapur on Monday.
Adv Ambedkar further stated that India is not divided and it's united. However, Bharat Jodo Yatra has been organised to unite the country. It is just a walking practice, Adv Ambedkar mentioned.
Speaking further, he stated that Nagpur is the right place to be in the field of manufacturing and services. A total of 480 international flights fly from Nagpur. The city can be chosen as their service centre. However, it cannot happen. Major mineral is moving out of Vidarbha. Rather, the iron ore processing plants must be set up in Vidarbha itself. The iron ore is also shifted to other state from Vidarbha region. Besides, the iron ore was also shifted to other places from Goa. As a result, now Goa is out of minerals. Similar situation can happen in Chandrapur, Gadchiroli, Bhandara, Gondia and half of Nagpur. He appealed to Chief Minister Eknath Shinde to pay attention to such issues. Later, he interacted with the office-bearers of Vanchit Bahujan Aghadi and asked them to strengthen the party and plan strategy for further local governing body elections.
Former ministers Ramesh Gajbe, Rajesh Borkar, Bhusan Fuse of Vanchit Bahujan Aghadi were present on this occasion.