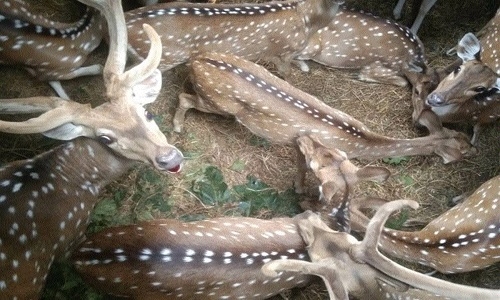 Our Correspondent
SEONI,
process of sending cheetals from Pench Tiger Reserve in the district to Kuno National Park is in progress. So far, 158 cheetals have been sent to Kuno. On Wednesday, a Reindeer Kuno has been sent along with 18 cheetahs.
Whereas, five days ago on November 11, 13 cheetals were released in the Kuno forest. A total of 500 chitals are to be sent from Pench Tiger Reserve to Kuno National Park.
This exercise is being done to increase the number of cheetahs, the favourite prey of cheetahs from Namibia, in the Kuno National Park. Chitals are considered to be the special prey of cheetahs. Recently two Namibian cheetahs released into the larger enclosure at Kuno have started hunting chitals. The exercise to increase the number of cheetahs in Kuno is being done so that Namibian cheetahs do not feel their lack after leaving the enclosure. Pench officials said that the pressure in the park is increasing due to the increase in the number of cheetahs in the Pench Tiger Park. To reduce this pressure and to increase their numbers in Kuno, chitals are being shifted. The official of Pench National Park has told that the Boma method is being adopted to catch chitals in Pench.
The process of catching chitals by Boma method is going on to send chitals to Kuno National Park. Boma has been prepared at Karmajhiri and other places in Pench. Officials have told that the chitals will be found in the chitals already present in the Kuno National Park. It would be difficult to identify the cheetahs of Pench National Park in the herd of Kuno's cheetahs. The exercise to create a favorable environment in Kuno National Park for cheetahs brought from Namibia includes increasing the number of cheetahs. For this, efforts are being made to catch the chitals and send them to Kuno as soon as possible. Pench's Deputy Director, Rajneesh Singh has told that after catching the chitals are being specially sent to Kuno National Park.