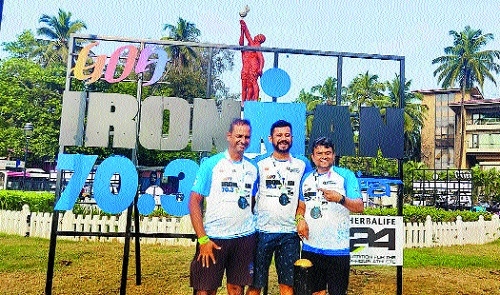 AMIT Saoji (1.9km sea swimming), Ganesh Kshirsagar (90km cycling) and Vijay Gupta (21km running) brought laurels to the city by completing the Ironman (Relay) 70.3 held in Goa recently.
Amit finished swimming in 42:37 mins, Ganesh completed cycling in 3:32:24 hours and Vijay took 2:47:56 hours.
Ironman triathlon (swimming + running + cycling) is among world's most challenging endurance event. It is widely considered one of the most difficult one-day sporting events in the world.
Both Amit and Vijay are Chartered accountants whereas Ganesh is a software professional. Coming from such diverse professions, they are real motivational force for Nagpurians to take up endurance fitness.
Over 1450 participants from all over India and 33 other countries participated in the event flagged off at Miramar beach by Goa CM Pramod Sawant.
The trio is grateful to Dr Amit Samarth, coach Sanjay Batwe and Ambazari lake swimmers group for providing continuous support, guidance and motivation during their preparations.
Saarth, Ojas are first Ironkids from Nagpur In the Ironkids held simultaneously in Goa brothers Saarth Saoji (14 yrs) and Ojas (9 yrs) from Sevasadan Saksham School excelled in their respective age groups. Saarth finished overall 3rd in 13-16 years age group. He sprinted 3km in 15:05 mins. Ojas was 11th in his age group of 9-12 years and finished 2km running in 10:56 mins. The duo is grateful to school's Ashwin, Roshan and Batwe for providing continuous support.