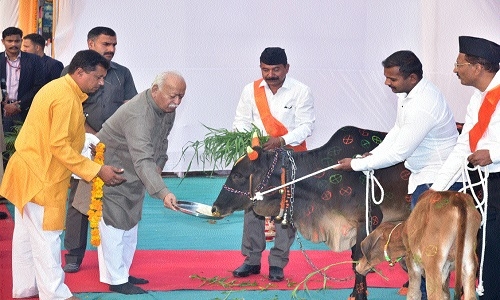 Staff Reporter
"Being a Kutumb in the society, it is the responsibility of Sangh to set an example of utilising individual resources and adopting indigenousness to serve the society and the nation," said Dr Mohan Bhagwat, Sarsanghchalak, Rashtriya Swayamsevak Sangh (RSS). He was addressing Kutumb Ekatrikaran programme of Dayitvavan Karyakarta in Jabalpur at MLB School Ground, on Sunday.
Dr Bhagwat emphasised over significance of Grihastha Ashram and termed it the base of three Ashrams. Eminents in the world have been encouraged for minutely studying 'Bharatiya Kutumb Vyavastha'.
Mentioning about prevailing lifestyle, Dr Mohan Bhagwat emphasised over proper communication in the family and interaction with relatives living at distant places at least twice a year. New generation must know about the history of family, ancestors, relatives, native place, pilgrimages etc for their better future.
Earlier, Dr Mohan Bhagwat performed Gau Pujan, Tulsi Pujan and worshipped Bharat Mata by lighting the traditional lamps. The programme was started after singing 'Vasundhara Pariwar Hamara' song. During the programme, Dr Mohan Bhagwat was accompanied by Kshetra Sanghchalak Ashok Sohni, Prant Sanghchalak Dr Pradeep Dubey and Vibhag Sanghchalak Dr Kailash Gupta. Besides this, Sunil Kulkarni, Dineshji, Deepak Vispute, Suhas Bhagat, Sunildev, Prashant Bajpai, Abhay Pachori and others were present.
Participating families were appealed for attending the programme after planting a sapling, stopping use of plastic, arrangement of water harvesting, know about the wellness of workers and hawkers at home and discussion on significance of Kutumb at their respective Shakha.