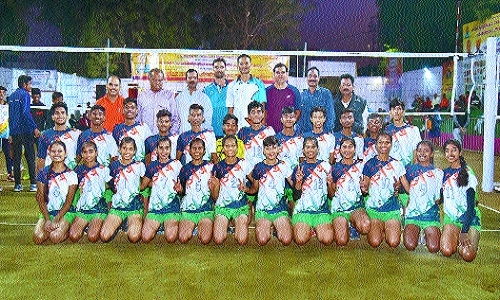 Sports Reporter
NAGPUR district boys and girls finished third in 47th edition of Late Mataprasad Tiwari Maharashtra State Junior Volleyball Championships under way at Raje Raghuji Nagar Krida Mandal's courts on Sunday.
Both the teams had ended as finalists in the last edition of the tournament held at Beed. They finished a rung below this time. After losing their respective semi-finals, both the teams bounced back to win their hard-line finals taking the third spots.
In the boys' third-place match, Nagpur, who were stunned by Amravati in league round, took revenge recording a straight-set win over their neighbours. Nagpur won 25-23, 25-18. For the hosts, Pranav Chouhan and Parth Deve came up with good show. The team was coached by Pravin Chilkulwar. Dipesh Solanki and Sameer Shah played well for Amravati.
In the girls match for the third place, Nagpur defeated Latur 2-0. The set-wise scores were 25-23, 25-19. For Nagpur, the duo of Pratiksha Kokate and Vaishnavi Bhange came up with excellent show. The team was trained by Nilesh Mate. Trupti Mane and Manaswi Rankhamb played well for Latur.
Earlier in the semis, Nagpur boys lost to Latur boys (3-0) 25-21, 25-21, 25-15 in the best of five setter.
Nagpur girls went down by an identical margin losing 25-14, 27-25, 25-15.