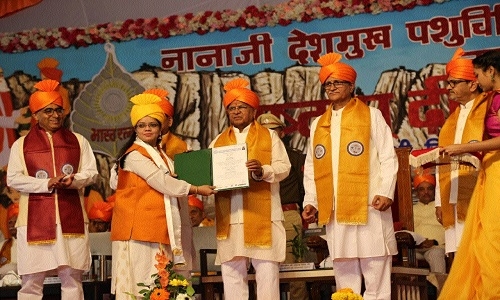 Staff Reporter
"Materialisation of researches and schemes on ground level is essential for providing benefits of extension services to common people in tribal and rural areas," said Mangubhai Patel, Governor of Madhya Pradesh while addressing the 6th convocation ceremony of Nanaji Deshmukh Veterinary Science University (NDVSU), on Monday.
Governor Mangubhai Patel conferred 13 gold medals awarded 968 degree certificates to the students for the year 2018-19, 2019-20 and 2020-21. He unveiled the statue of Rashtra Rishi Bharat Ratna Nanaji Deshmukh and inaugurated the convocation ceremony by lighting traditional lamps and worship of goddess Saraswati. Special guest on the occasion was Animal Husbandry Minister, Prem Singh Patel.
NDVSU, Vice-chancellor, Dr Sita Prasad Tiwari presented the progress report of university while guests released the souvenir of convocation. On the occasion, Governor Mangubhai Patel honoured to Dr Aditya Kumar Mishra, former Chairman, Agriculture Scientist Selection Board, Government of India and congratulated the students and wished them for providing benefits of their skills in the society.
Students who were honoured with gold medals include Tejeshwari Satpure, Apoorva Verma, Ayushi Vaidya, Ayushi Pandey, Akansha Kurmy, Pragati Invati, Aditya Sharma, Krishendra Kumar Pandey, Musku Nikita Reddy, MR Laxmanrao memorial gold medal to Tejeshwari Satpure, Apoorva Verma and Astha Mulchandani. Besides this, Vice-chancellor Gold medal started in year 2020-21 was conferred to Monisha Prabhakaran. PhD. Certificate of Merit awarded to Kajal Kumar Jadhav, Arun Mourya and Punam Shakya.
Speaking on the occasion, Dr Aditya Kumar informed about bringing pace in adoption of new technologies in the field of animal husbandry and agriculture and emphasised over utilisation of researches for making the animal husbandry and agriculture more profitable for the farmers.
During the programme, Abhay Mahajan, Praveen Gupta, Brajkant Tiwari, Jawaharlal Nehru Agriculture University, Vice-chancellor, Dr Pradeep Kumar Bisen, Rani Durgawati University, Vice-chancellor, Dr Kapil Deo Mishra, Netaji Subhash Chandra Bose Medical Science University, Vice-chancellor Dr Khandelwal, founder Vice-chancellor, Dr G P Mishra, Dr V K Bajpai, Animal Husbandry Department, Jabalpur, Fishery Department Jabalpur, former officers, scientists, teachers, employees and a large numbers of students were present.
Convocation ceremony was successfully organized with valuable contribution from Registrar, Dr. Shrikant Joshi, Dr Madhu Swami, Dean, Dr RK Sharma and members of management committee while Dr Amita Tiwari proposed a vote of thanks.