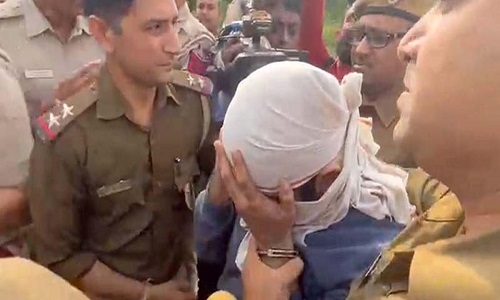 NEW DELHI,
THE narco analysis test on Aftab Amin Poonawala who has been accused of killing his live-in-partner will not be conducted on Monday, the Forensic Science Laboratory (FSL) said. A polygraphic test is to be conducted on Aftab before the narco test for which his consent is needed, and the police have been informed about that, it said.
"We are not conducting the narco test on Aaftab today," said FSL Assistant Director Sanjeev Gupta. Punit Puri, also an assistant director at the FSL, said the polygraphic test will conducted if the consent is received. "It will be followed by medical tests and after these only the narco will be performed."
"Within 10 days, narco will be done," he added. Assistant Director Sanjeev Gupta further said they have received request for the narco test "and we have started our work as well. Our director Deepa Varma has instructed to take this case on priority." "There was a meeting on Sunday between the FSL and the police team and everything has been decided but some parameters need to be completed before the narco test and they have been informed to the police. As soon they complete them we can do narco," he said.
Poonawala shifted belongings from his flat in Maharashtra's Palghar district to Delhi in 37 boxes in June and paid Rs 20,000 for it, a police official said on Monday. Poonawala had told Delhi Police that before moving to the national capital, he and Walkar fought about who would pay for shifting the items from their house in Vasai area of Palghar, according to police sources. A police official said they will find out whose account was used to pay Rs 20,000 for the transportation of furniture and other household items in June through the Goodluck Packers and Movers company.
A Delhi police team on Monday recorded the statement of a person in connection with the case. However, details of this person or his connection with the case was not immediately known. It has taken the number of people whose statements have been recorded here to 11, including two who helped Walkar when she was allegedly assaulted by Poonawala in 2020, the official said.