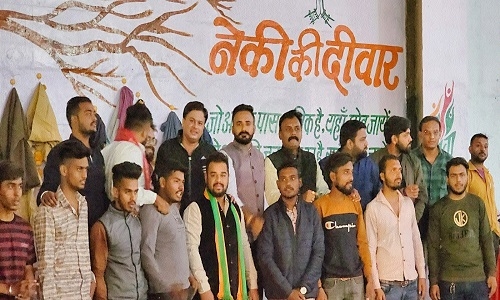 Staff Reporter
The Bharatiya Janata Yuva Morcha (BJYM) has inaugurated 'Neki Ki Deewar' (wall of kindness) near Gullaua Tal in Veer Savarkar Ward.
Speaking on the occasion, District President Yogendra Singh said the BJYM always endeavor hard to reach out to the last person in the queue and taking care of him. Following the same path, the Morcha members have made a small effort through the wall of kindness in Rani Durgavati Mandal. Terming the initiative commendable, Singh said it will help needy in getting the needful things. He said similar public service work will be done by the Morcha members in future as well and efforts will be made to help as many needy as possible.
It may be noted that 'Neki Ki Deewar', is an initiative took by the Government to provide a platform to residents, government and non-government organisations to come together and do their bit in extending support to the needy. The wall is different from a charity box as it allows people to donate whatever they can and one is free to pick up anything of their need without taking anyone's permission.
Those present on the occasion were Pawan Tamarkar, Anil Rajak, Akash Mishra, Akshat Rathore, Ajay Rajak, Tapan Burman, Pankaj Dubey, Ishan Nayak, Surendra Saini, Mohit Choubey and others.