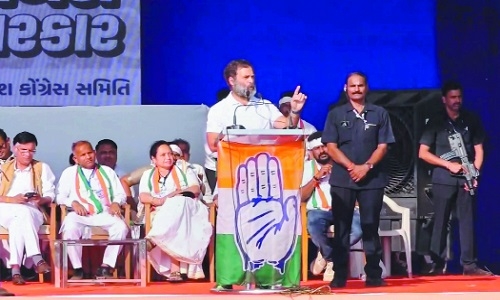 MAHUVA,
CONGRESS leader Rahul Gandhi on Monday said that he felt the pain of farmers, youth and tribals after meeting them during his 'Bharat Jodo Yatra' as he hit the campaign trail in Gujarat 10 days ahead of the first phase of Assembly polls.
Addressing his first rally in Gujarat after the announcement of the Assembly poll schedule, Gandhi asserted that tribals are the first owners of the country, but the Bharatiya Janata Party (BJP) was working to take away their jungles and keep their children away from modern education. The Congress MP took a break from his 'Bharat Jodo Yatra', currently passing through Maharashtra, and travelled to Gujarat, where he addressed a gathering of tribals at Mahuva in Surat district in support of his party, which is seeking to end its nearly three-decade stint in the Opposition in the BJP-ruled State in the next month's Assembly polls. Gandhi said, his 3,570-km yatra, which started from Tamil Nadu on September 7, was for the unity of the country and during the cross-country foot-march he felt the pain of farmers, youth and people from the tribal community after listening to their problems.
Sharing his experience of the yatra so far, the Congress leader said, he felt sad while talking to farmers, youth, and tribals. He accused the BJP of drawing up plans to displace adivasis by handing over forests to industrialists.