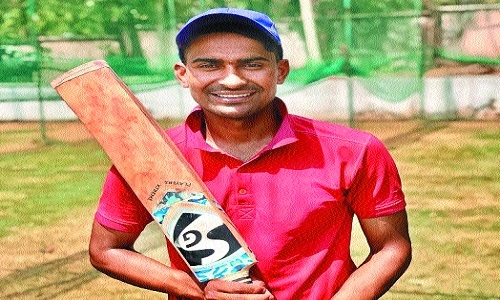 Sports Reporter
DHARMENDRA Thakur scored his maiden ton helping Vidarbha to a mountain of runs against Haryana in their Cooch Behar match at JR Institute of Cricket Technology ground in Barwala, Haryana on Monday.
In response to Vidarbha's massive 703-9 declared in 196.4 overs, the hosts were 209-3 in 71 overs by end of third day of the four-day match. Onus will be on the bowlers to exploit the last day turf to bowl out the opponents for first innings lead. An outright win does not look a possibility given the nature of turf where just 12 wickets have fallen in three days.
Thakur (152*; 210b, 22x4, 1x6), who was 93 not out, collected some quick runs with last two batters. After he lost Sanyog Shyam Bhagwat, who played 14 balls without scoring a run but stayed to see his partner reach the coveted three-figure mark, Thakur cut loose. He added 58 run with Rajsingh Chauhan (1*, 20b) dominating the partnership contributing 51 of those. As soon as the team crossed 700 runs, the declaration came. Bhagwat made early inroad cleaning up Mayank Shandilya for one on last ball of his first and team's second over. But Haryana recovered with fifties from Samant Jakhar (65; 123b, 10x4, 1x6), Yashvardhan Dalal (54; 124b, 10x4) and Parth Vats (53*; 104b, 8x4). Spinners Gaurav Farde and Ashit Singh chipped in with one wicket each.
Brief scores: Vidarbha 703-9 decl 0637-8 in 196.4 overs (R Binkar 180, D Malewar 110, D Thakur 152*; S Jakhar 2-77, Y Vardhan 2-111) vs Haryana 209-3 in 71 overs.