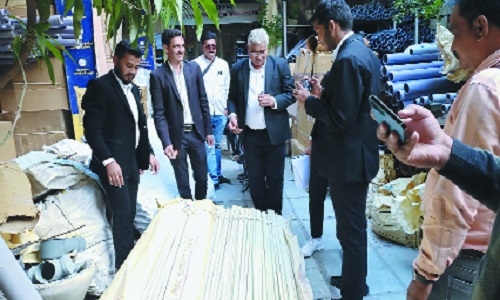 Business Bureau
R C PLASTO team on the orders of Court of Delhi along with the Local Commissioner (Delhi Court) and local authorities conducted a massive raid on Navnath Pipes in Mitra Nagar, Auranagabad, involved in selling low
priced and poor quality counterfeit Plasto pipes.
In the raid, huge stock of duplicate CPVC Plasto pipes was found. The alleged shop was a complete infrastructure set-up. Local Commissioner prepared the seizure report of all duplicate pipes found, thereafter entire material worth lakhs of rupees are seized and sealed by Local Commissioner appointed from Delhi District Court.
The representative of Plasto who was present at the time of raid has stated that their company is committed to take strict action on all counterfeit manufacturers / dealers, thereby more and more such kind of actions will be taken by the company in future in the best interest of their distributors, dealers and consumers.
The company is marketing its products under the brand name "PLASTO", and its products ranges from HDPE pipes, PVC pipes, column pipes, garden pipes, SWR pipes, ASTM pipes, sprinkler pipes, CPVC pipes, PVC fittings, SWR fittings, etc.