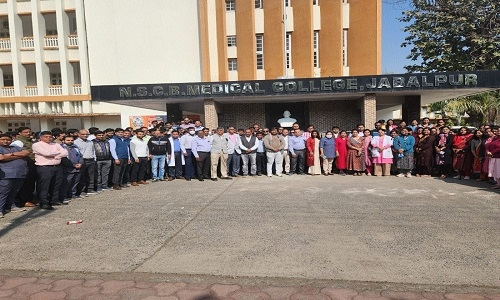 Staff Reporter
Doctors associated with 13 Government medical colleges of the State, including Netaji Subhash Chandra Bose Medical College, on Tuesday, staged 2-hours strike in protest of Government's decision to deploy bureaucrats IAS, SAS Officers in the college.
The protest was staged under the banner of Madhya Pradesh Medical Teachers Association. Soon after getting news regarding proposal for deployment of Deputy Collector-level officers along with Deans and Superintendents in the Medical Colleges, placed in the cabinet, the Medical teachers working in all the 13 government medical colleges in the State, expressed their objection by tying black bands.
The medical teachers also received support of junior doctors in their protest. According to them, few officers from the department take illogical decisions, in protest of which they staged no-work strike for 2 hours. Right from OPD upto Surgery all the departments remained close as the protesting doctors attended emergency cases only.
They said that comparatively doctors have better knowledge and information about the hospital and medical college, than an administrative office. This decision of State Government would only spread mis-management in the campus. If the higher authorities want changes in the management, they can follow the strategy of the Central Government which has create Public Health Management Cadre under IPHS and made the degree-holding doctors liable to handle management. Like Health Department, this strategy can be imposed in medical education as well.
According to the office-bearers of MP Medical Teachers Association, they would initiate aggressive protest if the government refuses to roll back the proposal. Clarifying their intensions not to tolerate the interference of administrative officers at any cost, they also threatened to boycott emergency services if needed in the days to come.