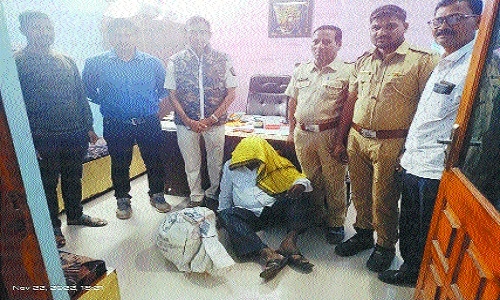 Staff Reporter
A team of Nagpur Forest Division arrested a person and seized a Sand Boa snake (Malavan) and one motorcycle from Gumgaon in Hingna Forest Range on Tuesday.
Indian Sand Boa, is a non-venomous species found throughout the dry parts of the Indian subcontinent. It is notified under Schedule IV category of Wildlife (Protection) Act, 1972. Therefore, collection, trade or utilisation of the species is prohibited in India.
On the basis of tip-off, a team was formed to carry out the raid and capture the smuggler. According to the information, a Sand Boa snake is being bought and sold in Hingna forest area in Butibori. The team came into action and arrested the accused Ramesh Vitthal Barapatre and seized the snake and a motorcycle (MH-40-BS-8073 ) from the spot. He was trying to sell the snake.
The team imposed different sections of Wildlife Protection Act 1972 against the accused. Judicial Magistrate First Class (JMFC), Hingna send him behind the bars for the crime. Further investigation is underway.
The operation took place under the guidance of Ranganath Naikade, Chief Conservator of Forests, Nagpur; and Dr Bharat Singh Hada, Deputy Conservator of Forests, Nagpur. Narendra Chandewar, Assistant Conservator of Forests, Umred; P M Wade, Range Forest Officer, Butibori; Nilesh Tawle; Ganesh Jadhav; Vinod Shende; Gyanoba Gitey; Kishore Chavan; and Yogesh Tadam put efforts in the raid.