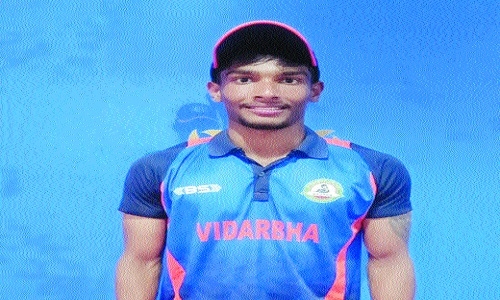 Sports Reporter
ON A very, very flat deck, Vidarbha bowlers had to struggle hard to bowl out hosts Haryana in their first innings to take three vital points from their drawn game at JR Institute of Cricket Technology ground in Barwala, Haryana on Tuesday.
Chasing Vidarbha's mammoth 703-9 declared, Haryana lost last of their batsman after 90 overs for the day had been bowled. Since they had time left on their side, the match continued and the tension mounted on both the sides. Finally, Vidarbha were able to get Haryana's last man out on last ball of the 92nd over of the day. It might well have been last ball of the match. Had Haryana batted without being bowled out, both teams would have got one point each for not completing one full innings each.
Vidarbha batted for more than two days in their first innings to make a massive score playing out 196.4 overs. By end of the third day, they reduced the hosts to 209-3 in 71 overs and needed seven wickets for the first innings lead.
Haryana batters did not give up and put a brave show. With no assist from the fourth day track, Vidarbha bowlers tried their best and luck finally smiled on them at fag end of the day. It was a case of better late than never for Vidarbha who had won both their matches outright at home.
Haryana batters, led by Aayush Kumar (159; 208b, 19x4, 3x6), Parth Vats (74; 148b, 11x4), Samant Jakhar (65; 123b, 10x4, 1x6) and Yashvardhan Dalal (54; 124b, 10x4) defied Vidarbha bowlers for much part of
the day.
But Vidarbha bowlers took last four wickets in quick succession, including two in the last over bowled by left-arm seamer Rajsingh Chauhan, as Vidarbha succeeded in toppling Haryana. From 485-6 in 155 overs , Haryana were 492 all out in 162.6 overs.
For Vidarbha, Ashit Singh snared three wickets, Chauhan and Gaurav Farde picked two each while the duo of Sanyog Bhagwat and Dharmendra Thakur chipped in with one wicket apiece.
Brief scores: Vidarbha 703-9 decl in 196.4 overs (R Binkar 180, D Malewar 110, D Thakur 152*; S Jakhar 2-77, Y Vardhan 2-111) bt Haryana 492 all out in 163 overs (A Kumar 159; A Singh 3-124, G Farde 2-88, R Chauhan 2-100) on first innings lead.