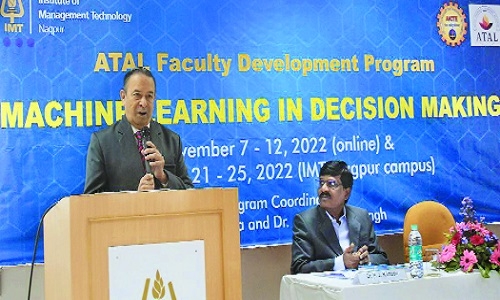 Business Bureau
Institute of Management Technology, Nagpur is organising an ATAL-FDP (Faculty Development Programme) on the theme 'Machine Learning in Decision Making'. Sponsored by the AICTE, the programme is being conducted in two phases. First one being an online programme was conducted between November 7 and 12 and the second phase is going on in-person (off-line mode) at IMT Nagpur campus from November 21 to 25.
The inaugural session of the second phase was conducted on Monday at IMT Nagpur campus. Chief guest of the inaugural session was Vijay Phanshikar, Editor, The Hitavada. On the occasion, he said that human creativity will always be superior to machine intelligence. He also described the rapid technological evolution as a race between humans and machines.
Dr P Janaki Ramadu, Dean (Academics) at IMT Nagpur, highlighted the impact of technological advancements on decision making in various business functions across organisations.
Dr Rabindra Kumar Jena and Dr Abhishek Narain Singh faculty IMT Nagpur are the FDP programme coordinators, informed Dr Bigyan Verma, Director IMT Nagpur.