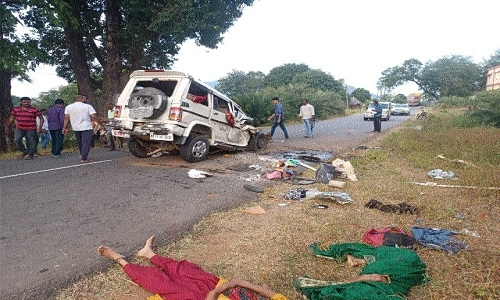 Our Correspondent
KONDAGAON,
PALL of gloom descended upon village Bamhani in restive Kondagaon district, when eight of a family were killed and two others were critically injured in a road mishap occured in Chintur locality of Andhra Pradesh on late Tuesday night. The injured are undergoing treatment in a hospital at Bhadrachalam.
According to information, 10 of a family had gone to Bhadrachalam for 'Asthi Visarjan rites (immersion of bones)' in a Bolero vehicle and after performing rites, all of them were returning on Tuesday night.
As the Bolero reached near village Boddugudem in Alluri district of Andhra Pradesh sharing border with Chhattisgarh, it had a fierce head-on collision with a recklessly-driven truck. The impact of collision was so severe that eight occupants in the Bolero died on the spot and two sustained critical injuries.
The deceased were identified as Maniram Thakur (60), Padam Thakur (55), Rajesh Thakur (50), Kiran Thakur (35), Manisha Thakur (25), daughter of Maniram Thakur, Satbai Thakur (55), wife of Maniram Thakur, Nainsingh Thakur (60) and Dilendra Thakur (45). Divansh (07), son of late Sajendra Thakur and Kartik Thakur (17), son of Dilendra Thakur have sustained critical injuries and they are undergoing treatment.
The last rites of five deceased were performed at their native place Pandripani whereas three others were cremated at Bamhani village. It needs to be recalled here that Sajendra Thakur, a resident of Bamhani posted at Dhanora police station, had committed suicide by shooting self with his service rifle on November 14.
His family members had gone to perform 'Asthi Visarjan' rites at Bhadrachalam and were returning when the mishap occurred.