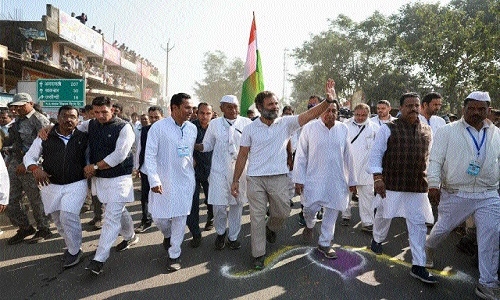 By Bhavana
'Aparajita' Shukla
Reiterating that the ruling Bhartiya Janata Party government at the Center has made the social environment of the country toxic by creating hatred and violence, Senior Congress leader Rahul Gandhi on Wednesday said he was on a mission to expose BJP among public through his cross-country Bharat Jodo Yatra.
His cross-country march on Wednesday reached Bodarli village Buarhanpur (Western Madhya Pradesh), where he said he was overwhelmed by the cordial welcome he was accorded by the commoners. He said that people in Madhya Pradesh had outnumbered the people of Maharashtra and Kerela. Rahul will walk 12 days in MP to cover a distance of more than 370 km from Burhanpur to Agar Malwa district that shares its border with Rajasthan.
The Gandhi family scion said that he was largely focusing on spreading the secular messaging and that the commoners must not fear for anything and should keep on raising their voices. "I am on the march to urge the people to overcome the fear that the ruling BJP has created in India. Nobody has to fear for anything," he said.
He also said that he was on march to listen to 'Mann ki Baat' of the commoners, farmers and the youth instead of imposing his 'Mann ki Baat''.
The atmosphere has been created in such a fashion that none can write against the Government, none can raise any issue in the Lok Sabha, nor anything can be done in the judicial institutions, he alleged. "So I decided to go directly to the public and communicate with them about this injustice," he said and added "I walk eight hours a day and still I do not feel tired." The Congress has made elaborate arrangements for the yatra in Madhya Pradesh, where assembly polls are due next year. It had lost power in the state in 2020 after a section of its MLAs quit the party. As the Gandhi scion and hundreds of Congress workers resumed the march after a two-day break, they were joined by senior leaders Kamal Nath and Digvijaya Singh – both ex-chief ministers of Madhya Pradesh, in Burhanpur.
Congress General Secretary In-charge of Uttar Pradesh Priyanka Gandhi Vadra along with her family is slated to join the march for the first time to show her everlasting solidarity with her brother Rahul. She is likely to join the march on any stretch between Burhanpur and Indore on November 24-25. On Wednesday evening, Priyanka Gandhi reached Indore, where she was accorded a warm welcome by senior leaders. The march comes as the grand old party is struggling to keep itself afloat after a slew of election defeats in successive state polls, as well as the 2014 and 2019 general elections. Accompanying Rahul Gandhi on the journey to 'Unite India' will be more than 100 members of his Congress party. It will be a five-month-long, 3,570km (2,218-mile) trek through 12 states. During his journey, Mr Gandhi will meet people in the day and sleep in makeshift accommodation at night. The state unit of Congress has made elaborate arrangements for the Bharat Jodo Yatra in Madhya Pradesh, where assembly polls are due next year. It had lost power in the state in 2020 after a section of its MLAs quit the party.
Today, November 23, marks the 77th day of the Bharat Jodo Yatra, which commenced from Kanyakumari in Tamil Nadu on September 7.