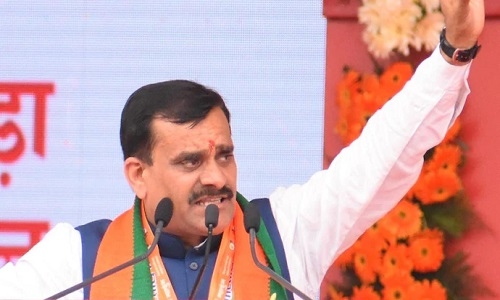 By Bhavana
'Aparajita' Shukla
With the entry of Congress General Secretary In-charge of Uttar Pradesh Priyanka Gandhi Vadra in the Bharat Jodo Yatra for which she reached the State on Wednesday, the BJP has made sharp remarks on Priyanka. State President of Bharatiya Janata Party V D Sharma questioned her, "The daughters of the state are asking what action will Priyanka ji take on Umang Singhar".
In an interaction with the media, the Sharma said that those who break the country are talking about uniting India.
A case of rape has been filed against Congress MLA Umang Singhar in the State. Sharma added, "Will Priyanka Gandhi, who gave the slogan 'Ladki Hoon, Lad Sakti Hoon', tell the daughters of Madhya Pradesh what action she is going to take against Umang Singhar?
State President Sharma said that after registering a case against Umang Singhar by the Congress leader, the police is searching for him. Even before this, a sister was murdered or she committed suicide, it could not be clear till date. The relatives of that sister are also pleading for justice. Sharma said that if Priyanka Gandhi really believes in "I am a girl, I can fight", then the daughters of the state, the people of the State want to know that this slogan was not just a political gimmick, by expelling him from the party and by instilling hope for justice among the daughters.
Commenting on Rahul Gandhi's Bharat Jodo Yatra reaching Madhya Pradesh, State President Sharma said that it has been the character of the Congress to keep its ears open and remain mum , but Rahul Gandhi should answer the questions . That the public is asking him. Sharma said that everyone knows the role played by the Congress party during partition. Despite this, Rahul Gandhi has named his yatra as Bharat Jodo Yatra, it is cheating with the country.
Sharma said that after the partition of the country, Nehruji had put a question mark on the integrity of the country by imposing Article 370 in Kashmir. Article 370 and 35A have been removed due to the efforts of Prime Minister Narendra Modi and Home Minister Amit Shah. State President Sharma said that Rahul Gandhi, who is taking out Bharat Jodo Yatra, should tell the people of Madhya Pradesh whether he had gone to JNU to support those who raised slogans of 'Bharat tere tukde honge' or not?