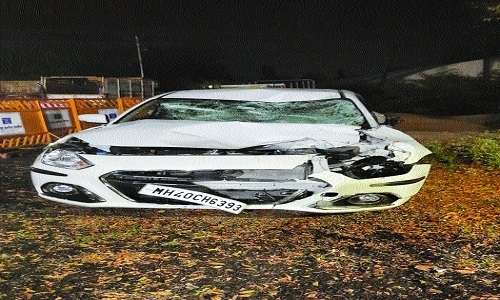 Parseoni Correspondent
A speeding car went berserk and ran over half-a-dozen men including an on-duty policeman who was inspecting an accident spot at Naya Kund in Parseoni Police Station area. The cop was killed and six persons injured in the horrifying accident reported on Wednesday night, police said.
The deceased cop was identified as Jayant Vishnu Sherekar (42), a resident of Ranala, Kamptee. He was attached to Paresoni police station.
According to police, first accident occurred near Naya Kund between Amdi turning and Paresoni at around 8.30 pm. A recklessly driven truck rammed into a car coming from the opposite direction. Car driver Vikram Singh Bais was trapped inside the mangled car. Staff of Paresoni Police Station including Jayant Sherekar along with villagers Gaurav Panwelkar and Amol Kanoje rushed to the spot. The police rescued profusely bleeding Vikram Singh from the car.
The traffic movement was stalled as a large number of onlookers gathered to the spot. Jayant, Gaurav and Amol started streamlining the traffic. Meanwhile, a speeding car (MH-40/KH-6393) came from Amdi turning at a great speed and mowed down onlookers standing on the road. The car driver escaped immediately from the spot after the mishap. Jayant and six others sustained grievous injuries in the mishap.
The profusely bleeding injured persons rushed to the hospital where Jayant was declared dead by doctors. The police seized the car involved in the accident. However, the driver is at large.
The injured persons are identified as Chandraprakash Tekade (32), a resident of Sutgirni, Naya Kund; Amol Kanoje (30), Sagar Sayre and Gaurav Panwelkar (32), both residents of Parseoni; Vikram Singh Bais (45), a resident of Naya Kund; Akash Konade (25) and Sandip Tijare (35), both residents of Mehandi. SP Vishal Anand and Addl SP Dr Sandip Pakhale visited the spot late night after the accident. A case under provisions of Indian Penal Code and Motor Vehicle Act was registered by Parseoni police. The police have started further investigations.