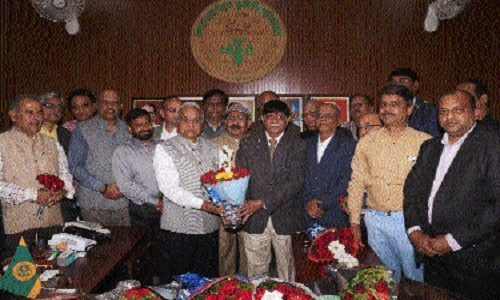 Staff Reporter
Dr Pramod Kumar Mishra assumed the office as 16th Vice-chancellor of Jawaharlal Nehru Agriculture University (JNAU) on Wednesday. Dr Mishra was offered warm welcome by students, scientists and other staff on his arrival in the campus.
Dr Mishra firstly visited Hanuman Mandir located at the University campus to receive blessings of the Lord and then assumed his office. The outgoing Vice-chancellor, Dr. Bisen handed over the charge to Dr. Mishra with a beautiful flower bouquet.
Registrar, Rewa Singh Sisodiya, all the deans, directors, account controller, security officers, IPRO, scientists and other staff members were also present to welcome Dr. Mishra in the office.After assuming office, Vice-chancellor, Dr Mishra and former Vice-chancellor, Dr Pradeep Kumar Bisen planted a sapling at the campus. Dr Mishra has completed his graduation and post-graduation in Agriculture from JNAU only. After completing his Ph.D. from Rani Durgavati University, he joined the University as an Assistant Professor in Agriculture Economic and Field Management Department in 1980.