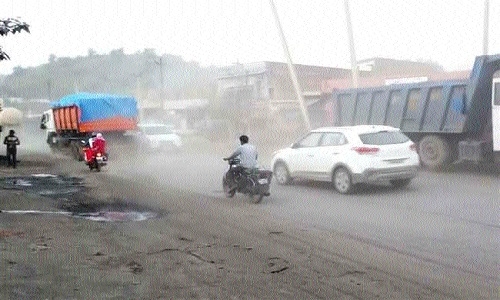 Our Correspondent
KORBA,
The residents of west area of the city will have to continue travelling amidst coal, dust and ash for 8 more months.
The 10.2 km long two-lane road, being constructed from Hasdeo Darri Barrage to Gopalpur at the expense of Rs 36 crores, will be constructed till June 2023.
The sand and macadam poured to fill the potholes result in dust, blocking the sight. Over 1 lakh residents of Darri and Jamnipali have been suffering due to the pathetic condition of road. Earlier, the road was proposed to be a four-lane road. However, the government later approved to make it a two-lane road.
The company of Ashok Mittal has been assigned the contract for Rs 36 crores. It needs a mention that No Entry was declared on the road for 3 months. After this, concrete work was started from Gopalpur but the road was already in dilapidated condition and the transportation of coal and ash made the situation worse. Residents of west area, Katghora, Pali and Podi-Uprora have to travel through this very road. The hardest parts of the road, with minimum visibility due to dust, include Darri Barrage brige, Darri Main Market, Darri station to Jailgaon Chowk, and Jailgaon to Gopalpur. On the condition of anonymity, supervisor of Ashok Mittal and Company said that the work is continuing at a slow pace because of the constant running of heavy vehicles. Executive Engineer of PWD AK Verma said that the work could not be speeded because of rainfall. Also, the road is frequented by heavy vehicles.